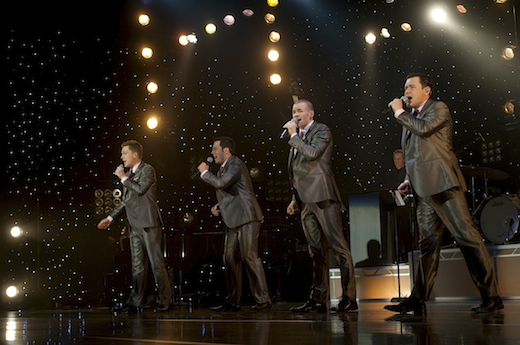 Broadway World Review by Jeffrey Ellis
While seated at TPAC's James K. Polk Theatre Thursday night, I was struck by a sudden realization: If Matthew Weiner, the creator/executive producer/grand poobah of Mad Men, needs some inspiration, or if perhaps he needs a special musical guest for his particular period-piece of a television juggernaut, he need look no further than the four men who make up Under the Streetlamp, the singing group that is currently taking the USA by storm in their first national tour. With exceptional style and remarkable confidence, their act goes down as smoothly as a perfectly dry martini served up in the glamorous nightclub of your nostalgia-fueled dreams.
Oozing charm and brimming over with sex appeal and an overabundance of stage presence, Under the Streetlamp—the quartet (Michael Ingersoll, Michael Cunio, Shonn Wiley and Christopher Kale Jones) that somehow manages to capture the sounds of multiple generations in their polished act, one that has delighted PBS pledge drive supporters for some time now—took to the stage of the Polk Theatre for a concert of pop music standards, a tuneful blend they quite appropriately call "The American Radio Songbook."
Clad in impeccably tailored suits, the four men look for all the world as if they have just stepped off a Mad Men soundstage, calling to mind the final scenes of the television series' season five finale (which aired only four nights earlier). Much like Don Draper striding purposefully off a soundstage, the men of Under the Streetlamp strode onto the Polk Theatre stage, proceeding to give a performance that resulted in multiple standing ovations—a tricky, if altogether deserved, trifecta of appreciation—and the kind of respect Nashville audiences give only to the extremely talented. With smooth sophistication, an easy wit and the kind of rapport some performers can only dream about, Under the Streetlamp delivered the musical goods and then some.
Under the Streetlamp convincingly captured the hearts of their Music City fans with their two-hour performance that showed off the group's tight harmonies and entertaining teamwork while giving each man a solo turn in the spotlight, affording the audience a glimpse into each man's personality and unique brand of onstage wizardry. Throughout the fast-paced show, they honor The Beach Boys, The Beatles, The Four Seasons and more, somehow—no matter your age—making you feel as if they've captured the very music of the special moments of your life, like so much lightening in a bottle.
With a musical program that included everything from Rodgers and Hart ("Blue Moon") to McCartney and Lennon ("Hey, Jude), from Leiber and Stoller ("Fools Fall in Love," beautifully sung by Wiley in a medley with "L-O-V-E") to a rocking encore that included every song about rock-and-roll you could hope to hear— even some Joan Jett ("I Love Rock and Roll")—Under the Streetlamp commanded the stage with more than a little bravado mixed with an undeniable self-assurance that is the unmistakable purview of the seriously talented.
During the second act—which followed a first stanza that set the show's tone with style and panache—Wiley proves he is the consummate song-and-dance man as he paid tribute to his father's influence (along with his silver screen dancing idols Gene Kelley, James Cagney and Fred Astaire—all three of whom he mimics perfectly) with a wonderful, and somewhat surprising, rendition of "When You're Smiling" that ensures you're smiling by song's end.
Cunio shows off his sexy, bad boy persona with a stunning performance of "It's A Man'sWorld" that is a highlight of Act Two, but it was his first solo turn—a tribute to Etta James via a performance of "At Last" that is as good as any you could ever have heard—that filled the Polk Theatre with his soulful passion. If I never hear "At Last" again (which definitely ranks among my very favorite songs), I could leave this world a very happy man. Cunio was extraordinary.
Jones' raucous performance of "She's a Lady," which included more than just a passing nod to the showmanship of Tom Jones, was delightfully unexpected. With a choirboy's face and his jokes about sharing the armrest, he hardly exudes the brashness he was able to deliver in his spectacular performance of the song. Backed up by his bandmates, he showed off his altogether serious talents, thoroughly commanding the stage in his performance.
But it's probably Ingersoll who seems most likely to succeed in a Vegas showroom or a New York supper club, moving easily about the stage with a graceful ease that is so evocative of the mid-20th century showmen he so adroitly emulates. Speaking directly to his audience to introduce a number or playfully ribbing his castmates, he's charming and glib when he needs to be, yet his sincerity is palpable, particularly during his second act performance of "Save The Last Dance For Me" that he introduces with a brief story (one that was heretofore unknown to me, at least if not everyone else in the audience—seriously, who knew?) that lends deeper resonance to the song's meaning.
Clearly, it doesn't matter if you're already a fan of the group from their much-buzzed-about PBS concert special or if you're seen them onstage in Jersey Boys, the Broadway hit that they helped bring to the provinces as part of the national touring company, you're going to count yourself among Under the Streetlamp's breathless, boisterous fans by show's end. There's no denying the four men have stage presence—throughout the concert, they interacted easily with their audience, moving fluidly and seamlessly from one number to the next, showcasing their abilities to go with the flow and to make even the most off-the-cuff remarks seem polished and practiced while retaining a sense of fun and spontaneity that guarantees a good time definitely will be had by all.
Sure, the audience skews slightly older thanks to the timelessness of their musical offerings which span the decades of the 20th century—if you've been exposed at all to American pop music, you're sure to find yourself singing along with gusto, even if you can't match the superb musicianship of the four men and their nifty seven-member band (and if Nashvillians know good singers when they see them, you can rest assured that they don't cheer for the musicians unless they, too, are very, very good—and these seven players were justifiably rewarded).
So now, Under the Streetlamp moves on to Peoria, Kansas City and Minneapolis (and those are just this weekend's tour stops), but I have a feeling their Nashville audience will be welcoming them back to Music City before we know it…