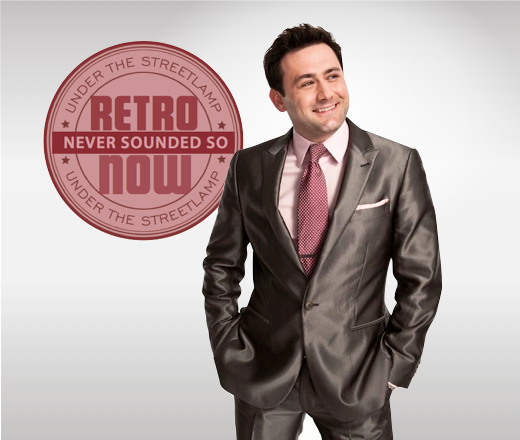 ArtistDirect: "Anyone who admits to singing Garth Brooks in the shower is cool by us."
Under the Streetlamp's Michael Ingersoll was tough enough to withstand an interrogation with Amy Sciarretto. He's talented and fun to chat with, and very candid and informative.These questions didn't intimidate him; he housed these bitches, from back to front. He was a class act, too. We likey. Lots. Plus, anyone who admits to singing Garth Brooks in the shower is cool by us.
Ingersoll and his four-piece group remind us of a band of Michael Bublés. Love, love, love. Croon, croon, croon.
Ingersoll is one of our top five Take Aim subjects. He's in some pretty good company, too.
You guys are like a group of Michael Bublé's + we LOVE Michael Bublé. We love your unique style. What inspired you to go this route? Are vocal groups making a comeback?
Thank you so much for the Bublé comparison. We love him too…fantastic singer and showman. We formed this group after having spent many months portraying the Four Seasons in the Broadway hit, Jersey Boys. The audience's enthusiasm for the music of the 50's and 60's is still so incredibly palpable and so much fun to be a part of, that we wanted to continue to serve that audience even after our time with Jersey Boys came to an end. We were able to then explore, and in some ways reinterpret, the music of many great artists; The Beatles, Etta James, Sam Cooke, The Drifters, The Beach Boys….the list goes on and on. And because each one of us is a lead singer in his own right, we were able to each lead with our personal strengths to create four distinct personalities onstage. Our goal is to seamlessly pass the focus back and forth between each other, creating opportunities for each guy to take the lead while the other three are singing backup or are offstage altogether. Audience members often tell us that our approach is reminiscent of the old Rat Pack shows in Vegas, which is always an incredible compliment to receive. The single greatest advantage of going this route…leaving the acting business after more than a decade….is that we have full artistic control over every aspect of the show. It's ours. And that's an enormous privilege.
Are vocal groups making a comeback? Did they ever go out of style? 
It seems to me that each decade has its share of vocal groups that folks just can't get enough of….the Drifters to the Bee Gees to New Edition to Boyz II Men to *NSYNC….they always find a home. There's something purely joyous about vocal harmony. I think it will always be a mainstay of American pop music.
What is your favorite from each songbook of the '50s, '60s, '70s, and '80s? We know, it's hard. 
Ahhhh! Crazy hard…
'50s – Elvis Presley…That's Alright Mama. Raw, rockabilly, soulful and a harbinger of things to come.
'60s – The Four Seasons….we owe those guys a hell of a lot.
'70s – Led Zeppelin owned that decade in a lot of ways.
'80s – Michael Jackson. Legend.
Any non-musical skills/hobbies/talents? 
I'm a second degree black belt in Tae Kwon Do and I make one hell of a Veal Saltimbocca.
What is your absolute favorite song to sing in the shower and why? 
Garth Brooks' "Friends in Low Places." Anything Garth Brooks, actually. Gotta get some Garth in this show if I can sneak it past those other three knuckleheads.
If you were not making music, you would be:________
If I were not making music, I would be….auditioning. As an actor. I don't miss that at all.
Are you going to check out Under the Streetlamp?

—Amy Sciarretto