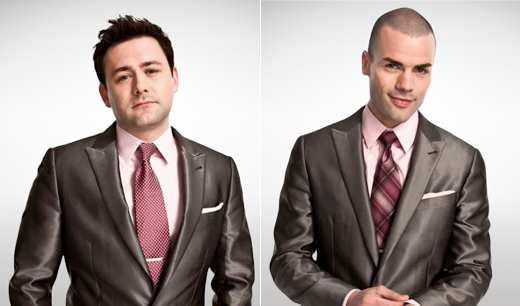 Broadway World talks with Streetlamp's Michael Ingersoll and  Michael Cunio
Timing just seems right for the four men who make up Under the Streetlamp—the quartet that's taking American stages by storm this summer—to share their mantra that "retro never sounded so now!" with the legions of fans of "The American Radio Songbook of the '50's, '60's and '70's" while bringing a whole new audience over to their side of the musical dial.
The four—Christopher Kale Jones, Shonn Wiley and the two Michaels: Cunio and Ingersoll—will be singing to the faithful when their first national tour brings them to Nashville's Tennessee Performing Arts Center for a June 14 performance (curtain's at 7:30 p.m.) at the James K. Polk Theatre.
Introducing themselves and the music they love to a whole new audience while simultaneously reminding original fans of those songs why they fell in love with the music in the first place, the four men of Under the Streetlamp first became friends and co-stars in various incarnations of the national touring companies of Jersey Boys, the mega-hit Broadway musical (it's been packing 'em in at the August Wilson Theatre in New York City for almost seven years now) that tells the timeless and tuneful story of Frankie Valli and The Four Seasons—which includes Nashville's own Bob Gaudio, who wrote and produced most of the group's best-loved tunes.
"We got together while doing Jersey Boys," says Michael Cunio. "And subsequently we started Under the Streetlamp. We're all really close friends, so we look at this as something we were originally doing as a lark, but which has really taken off. And it's super cool and totally overwhelming."
Starting off their first national tour in Cleveland, Ohio (not coincidentally, the home of the Rock and Roll Hall of Fame), "it's our first time to do the tour bus thing," explains Michael Ingersoll, as Under the Streetlamp moves across the United States, kicking off the first leg of their tour with stops in Chicago, Indianapolis and Nashville.
According to Ingersoll, each of the men spent different tenures in Jersey Boys—ranging from one to three years—and they began to sing different music during their time off from the show, which included performances in Ingersoll's cabaret act.
"We started singing other music for fun, to sort of freshen up our week," he says, adding that once Jersey Boys was a certified hit in Chicago, requests for the men to perform at social and charity events began to increase.
"On our nights off—Sundays and Mondays—we'd be singing songs of the Beatles, the Drifters, Dion and the Belmonts," Ingersoll remembers. "People started responding and we had friends asking us to do shows for a lot of worthy causes."
"Ingersoll had been doing a cabaret on nights off from Jersey Boys and he invited us to join him—and a chemistry and electricity took hold," Cunio offers. "As we explored it, it was only a matter of time before Under the Streetlamp was born."
As the four men created their act—they work together insofar as song selection is concerned, working out their slick choreography (much of the credit goes to Wiley, who's a Drama Desk Award-nominated choreographer) and devising their onstage patter between songs—they realized, Cunio says, that they were crafting a newfangled history lesson of music from the mid-20th century onward.
"It's a journey through the great American rock and roll songbook—from its roots in the 1940s to the present," he explains. "It's a journey through some great classic songs, and we realized at one point that it was like 'the American Radio Songbook.' We do hit music from the 1970s and 1980s, and you'll also hear songs from as early as the 1930s, but what we have is a great wealth of material that features the greatest radio hits of the 1940s, 1950s and 1960s."
"The material we choose, the way we present it is entirely up to the four of us," says Ingersoll, who early in his career spent a lot of time at Memphis' Playhouse on the Square where he was a company member from 2002-2005—in fact, the Bluff City is where he got married. "The way the show flows, the conversations we have between the audience and us, the choreography and movement and there are times when you run into problems and obstacles. There's no way to avoid them, but we've learned how to work to together."
Ingersoll becomes a bit introspective when talking about what Under the Streetlamp means for the four men who tour together, work together and live together while introducing audiences to their sound and the music they love. "We had each spent ten to 15 years in the theater/tv/film world and we each had these pinnacle jobs as the Four Seasons in Jersey Boys," he says. "So in becoming Under the Streetlamp, we left the theater world entirely—the touring concert industry is a completely different animal—it's our responsibility to make sure things go right, but we also have to own it when things go wrong."
Initially, the impact of Under the Streetlamp (the name comes from pop music history itself: credit for the rise of doo-wop can be attributed to those fledgling groups performing under a streetlamp—the most readily available spotlight in most cities—while perfecting their sound and creating a new style of music) was somewhat scattershot, according to Ingersoll.
"We had some shows on the books and we would perform them, then we'd go back to our lives," he says. "Every time we'd do a show, we'd book a couple more. After a whole year out of the theater world, performing as Under the Streetlamp, we realized we'd inadvertently created a band."
Formed in Chicago in 2010, Under the Streetlamp quickly earned a devoted following in the Windy City, earning a reputation for generation-bridging concerts that has paved the way to a much-anticipated debut CD/DVD. Titled Under The Streetlamp: Live!, the concert recording was picked up by PBS to serve as the centerpiece for pledge drives at local PBS affiliates across the country, including Los Angeles, Chicago (naturally), Philadelphia, Dallas, Washington D.C., Atlanta, Houston, Detroit, Seattle, Tampa, Minneapolis, Miami, Cleveland, Portland, Pittsburgh, Las Vegas, New Orleans and more.
The PBS special catapulted Under the Streetlamp into the national spotlight—which they share with The Midtown Men, a four-man ensemble featuring four of the original stars of Jersey Boys on Broadway: Daniel Reichard, Tony Award-winner Christian Hoff, J. Robert Spencer and Michael Longoria—launching them on their first national tour in 2012.
Should we expect a rumble someday when the sharp-dressed and stylish, suit-clad men from Under the Streetlamp and the four Midtown Men find themselves at the same intersection in some unnamed and unexpected American city? Cunio laughs uproariously: "It would be the lamest rumble ever! But, boy, would we be well-dressed!"
"I think there are enough fans for the type of music we do and The Midtown Men do to keep all of us on the road for a long time," Ingersoll laughs. "They're great guys!"
And while rumbles aren't the order of the day—unless, perhaps, they find themselves in the same town as a West Side Story road company—the men of Under the Streetlamp seem to find their fair share of fun on the highways, byways and interstates of the United States.
"Touring together is a blast!" exclaims Cunio. "It's like summer camp…we're on a bus, living out of suitcases, don't know what cities we're in at the time…we sing every night and we have to take care of ourselves, our voices, but basically what you have is a bus full of grown men acting like 12-year-old boys."
But when it comes time to buckle down and get serious about their act, the four are all-business, Cunio and Ingersoll assure us.
"We've each been in the business long enough to know our strengths and weaknesses and it becomes obvious who should sing what songs, who should take what solos and what movement works best for us," Ingersoll says. "It's our great strength, really; we don't step on one another's toes. We have four lead singers, but our voices are very different and I'm not going to sing a song that's right for Cunio and he's not going to sing a song that's better suited to me."
It's that collaborative effort, the artistic symbiosis, of Under the Streetlamp that speaks most eloquently to Cunio's heart, he admits. "It's a great privilege to see how much joy the music brings to our audience," he says. "The music is the excuse for us to get together to cut up—it's a party and we want the audience to respond to that—but what we found is that the music elicits something deeper, something that resonates in each of us and it's a privilege to be a part of it."
"In our lives, individually, we were journeyman actors, performers and entertainers," Cunio continues. "We've all had consistent work and have had the ability to make a living, but [Under the Streetlamp] is something none of us take for granted. It really allows you to appreciate every opportunity that we are all collectively enjoying about this experience.
The music they perform recalls "a time when we weren't encumbered by social networking…there was just one radio station. When people come to our shows they know the words to everything we're doing up onstage…it's uncomplicated, uncynical entertainment—and there's always a need for that," Cunio muses. "The whole experience has been so organic and unexpected, and we're savoring every moment of it. Any career in the performing arts is seasonal, so it's all about perseverance. I have been given so many opportunities in my career—you go into any job knowing it's probably not going to last forever, so for us to be able to have this journey now is something we have to enjoy and to be grateful for."
For Ingersoll, his Under the Streetlamp experience is an example of the greater good that creative performance can be: "If what you're doing makes people happy, then you'll have a career. We try to serve our audiences in the very best possible way. It's an incredible job!"