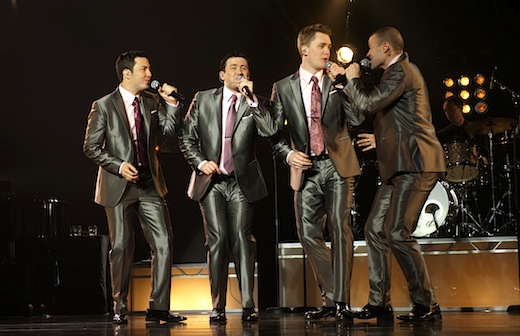 The importance of community sharing, investing in social good, and conscience capitalism has grown in the last few years with many organizations realizing the value of giving back to their community. Following the recent economic downturn, many entrepreneurs have shifted their thoughts from what is best for "me," to synergistic business models that work with the community and focus on what is best for "us." A great example of this forward-thinking outreach is the philanthropic contributions of the new hit show, "Under the Streetlamp."
Founded by Michael Ingersoll, who starred as Nick Massi of the Four Seasons in "Jersey Boys," Ingersoll conceived a unique solo concert that was developed in collaboration with a Chicagoland not-for-profit performing arts center. The event grew in demand, selling out dozens of performances to overwhelming response, and Ingersoll's connection to his warm Chicagoland audiences became the catalyst for an exciting new enterprise. Stories of his success, combined with special guest appearances from his "Jersey Friends" made for an undeniably hot ticket. Soon it became apparent that the next step was to develop a brand new concert that featured all four boys like no one had seen them before, and shortly after the Chicago company of Jersey Boys closed its record breaking run after thrilling over 1.3 million patrons, "Under The Streetlamp" was born.
"Playing Nick Massi has been a life changing experience," recalls Ingersoll. "The audience was so overwhelmingly enthusiastic…There's nothing better than being part of something that's on fire." Fulfilling the demand of audiences, Ingersoll is thrilled to bring the recent leading cast members of "Jersey Boys" with an elite jazz orchestra comprised of world-class musicians to the Paramount Theatre for his show, "Under the Streetlamp."
The new show, also starring Michael Cunio, Christopher Kale Jones, and Shonn Wiley, offers audiences the rare opportunity to get to know these four rising stars of stage and screen as they relate hilarious and touching stories of a their lives in show business. "It's not about flash or sets," says Ingersoll. "The guys wear their hearts on their sleeves. The irony is that the four of us met playing a band and essentially, became a band."
The incredible rock and roll show featuring hits by The Beatles, The Beach Boys, and The Drifts also works to creatively join forces with performing arts venues and not-for-profit organizations to raise funds for causes ranging from arts in education to fighting cancer and AIDS. "Having an audience is a privilege," says Ingersoll. "We use the show as a platform to help the community."
Ingersoll furthers, "Giving back is every bit as important as the music itself." "Under the Streetlamp" has definitely been giving back, just recently surpassing the two million dollar mark in raised charitable contributions. They have also partnered with organizations such as the United Way, Boys and Girls Clubs of America, and Broadway Cares/Equity Fights AIDS. Community outreach is central to their mission and they are always searching for the next opportunity to help make a difference.
The upcoming performance of "Under the Streetlamp" at the Paramount Theatre on March 19 is partnering with the Aurora Area Interfaith Food Pantry and will raise funding for the organization.