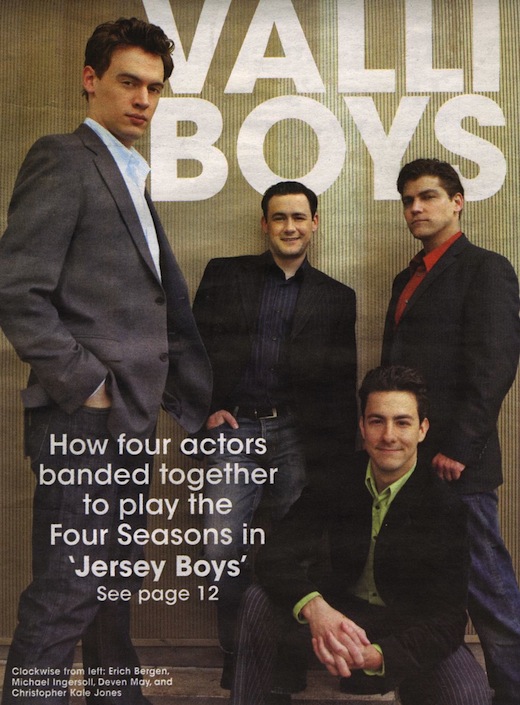 On the first night of the Los Angeles engagement of Jersey Boys, the touring company of the 2006 Tony Award-winning musical, the courtyard outside the Ahmanson Theatre is flooded with people an hour before show time. Asked if any tickets have been returned for that night, a woman at the box office shakes her head and replies, "Not a one. I've worked here for 20 years and never seen anything like this."
It doesn't matter that the cast isn't filled with movie or Broadway stars or that it doesn't boast a sexy story line or pyrotechnics. Jersey Boys is simply the story of four guys from, you guessed it, New Jersey with a dream of making it big in the music industry. It's based on the rise and fall of Frankie Valli and the Four Seasons, the group behind such 1960s hits as "Sherry" and "Walk Like a Man." Still a massive success on Broadway, the show recently kicked off a national tour that will remain in L.A. through Aug. 31 while also opening companies elsewhere, including Las Vegas and San Francisco.
Headlining the tour is a quartet of actors ages 21 to 36, and though they weren't alive at the height of the Four Seasons' popularity, they manage to uncannily capture the essence of their real-life counterparts. As Valli, the little crooner with the big falsetto, Christopher Kale Jones eases flawlessly into the shoes of John Lloyd Young, who took home the best actor Tony in 2006 for playing the role on Broadway. The Broadway production also won a Tony for Christian Hoff as Tommy DeVito, the man who brings the group together and then threatens to tear it apart with his gambling debts and temper. In the tour the role is brought to life by Deven May, a charismatic actor who won an Ovation Award for originating the title role in Bat Boy: The Musical before taking that show to New York, earning Drama Desk and Lortel nominations, and London. Michael Ingersoll, who has also played Bat Boy in his lengthy stage career, is heartbreaking as the often-overlooked Nick Massi. And 21-year-old Erich Bergen endures his share of good-natured ribbing from his castmates offstage but shines onstage as songwriter Bob Gaudio.
Jersey Boys marks the first national tour for the four lead actors — though they're quick to point out that with long stays in each city and advance word of mouth already filling houses, it's not a typical tour. As May puts it, "This show brings the Four Seasons to a whole new generation. From 7 to 75, people are coming in and loving the show. And I couldn't be happier for everyone."
Back Stage: What was the audition process like for each of you?
Michael Ingersoll: The road to it was long for all of us, except for Bergen, whose voice just changed last week. I spent years in regional theatre. After working in the middle of the country for a while, I moved to Chicago and was cast in a play called tick, tick…Boom!, playing [playwright] Jonathan Larson.
Erich Bergen: Which I saw him in. And he just got a Jeff Award nomination for it.
Ingersoll: Thank you, Bergen; I take back the prepubescent remark. At any rate, the reviewer for the Chicago Sun-Times said, "I wanted to slip this kid a note that said, 'Start learning the score for Jersey Boys; you've got a real shot at that hit show's national tour.'" I didn't know the show. It was weeks from winning the Tony, and I hadn't heard the score. So I immediately did: I got the CD; I watched the Tonys. The ironic part is, at the same time Ron Melrose, the music director [for the show] in New York, did a Google search for Jersey Boys. And because my review had the title in it, he read my review and requested I be put on the audition list in Chicago. So we actually sought each other out. That's how I got called in the first time. Then I got called back to New York and got cast a few days later. But it was a five-year journey of working steadily in regional theatre before this. And this is, for all of us, the biggest thing we've done. You only get so many megahits per decade, and thank God this is one of them, and thank God we got on this early.
Bergen: My story is actually boring —
Deven May: When you graduated high school —
Christopher Kale Jones: Yeah, weren't you actually delivering a pizza to the audition room?
Bergen: Right, right. I grew up in New York City, and in New York City if you want to do any sort of arts, there aren't a lot of outlets, unlike if you live in places like Ohio and you have a great high school theatre program or a great regional theatre. I had a couple in New York City, but they all ended up closing because of arts funding going down. For seven years of my life I went to a place called Stagedoor Manor, a performing arts camp — the one where they shot the movie Camp. So if you're in New York City as a kid, you have to sort of do it professionally; there's no other outlet. I've been with my same manager since I was 10 years old. Which these guys will tell you was just last year.
So I grew up doing commercials. I went to college at North Carolina School of the Arts, quit after two years, came back, and started auditioning. I went and saw Jersey Boys right when it was opening. I didn't think there was a part in it for me, because the one part I thought I would be good at, I thought he had to be shorter, because the guy who played it on Broadway, Daniel Reichard, isn't that tall. But I wanted to go in for the show anyway, just to be seen. So I went to an open call because I literally could not get an audition. They would not see me. A few weeks later — this was last July — I got a call to go in. It was on a Monday. I walked in, there were a bunch of other people there auditioning, and they gave me a callback right then and there. I came back on a Wednesday with more sides to learn and more music, and there were now 20 people in the room, including Bob Gaudio and Frankie Valli, sitting right in front of me. They sent me to go see the show that night; I came back on Friday for the dance call and I looked around and realized I was the only person above 6 feet. And I sort of figured out what was going on. Then I got the call Monday morning. Once the audition process started, it was boom, boom, boom. My friends did not see me that week. If I wasn't at Chelsea Studios going through the audition process, I was locked inside my bedroom learning material.
Jones: I'd been fortunate enough to work with the creative team on a show called Zhivago at the La Jolla Playhouse last year around this time. I played a small part in that show but was fortunate enough to work with Des McAnuff and Sergio Trujillo, the choreographer. I had seen [Jersey Boys] that February and just loved it and thought it would be the best thing in the world to play that part. So I wanted to make sure to look out for the national tour. When it happened, in early July, I was doing Grease in St. Louis, playing Doody. We had one day off, a Monday, and I went in and auditioned. They said, "That's great; you have to be back here on Friday because that's when we're going to measure you guys up against each other." Well, Friday was my first preview in St. Louis. I could have conceivably flown into New York, done the callback in the morning, flown back, and made my preview. That's if there was no weather, if there was no delay. And my theatre said, "Look we're out thousands of dollars if you miss this preview. As much as we are behind you and support you, we cannot let you out for that." So I made the hard choice not to go back on Friday. So I figured that opportunity was gone; I go back to St. Louis, and I'm excited to do Grease but at the same time crying and inconsolable that I've lost my chance to play Frankie.
A couple months later, I'm an unemployed actor in New York, and I get a call about three weeks before rehearsals are scheduled to begin for the tour of Jersey Boys. The call is from Des McAnuff, and he says, "Chris, I want to let you know the part is still open, and we want to fly you out here to La Jolla, where we're currently doing The Wiz, and most of the creative team is out here. We'll audition you over the weekend, and we'll see. But the part is open till Monday." That was a Friday. I flew out Saturday morning, was told what I'd be doing — singing about five different songs from the show, reading about seven different sides, and Sergio would be teaching me a combination to do in dance call. I wake up Sunday morning, I file for unemployment — I certify for my benefits for that week — and then I go to the studio and audition for Des and Sergio. They gave me a call about a half-hour later, saying, "We want to do a little bit more in the morning." They actually rescheduled my flight.
I did some singing with Ron Melrose, the musical director, and Des and Sergio were there. They wanted to play with my voice a little bit, and they noticed we could alter my voice a little more towards Frankie. And they said, "Okay, we're all good here. The only catch is Bob Gaudio has final casting authority in his contract. So we need you to audition for him." So they flew me back to New York. Two days later, I auditioned for the remaining producers and casting people, and Bob Gaudio walks in right before my audition and leans over to me and says, "Chris, I want you to know, Joe Pesci's hanging out with me today, so he may come in the room later." I finished my first song, and Joe Pesci [whose younger self is depicted in the play] walks in. Immediately all eyes go to him, and it's clearly not about me anymore when an actor of that caliber walks into the room. I sang some more and read my scenes about six feet away from Joe Pesci, who was giving me a fantastic stony stare the entire time. They had me wait for about a day and a half, and they gave me a call and told me I got it.
May: I'd auditioned for some sort of semblance of the show in '04. They brought me in for the Frankie Valli role, and I was thinking, "I'm never going to play Frankie Valli." But because I had done Bat Boy, they thought I could sing high. But I didn't look anything like Frankie Valli. I went in anyway and got called back, but it didn't work out. So I went over to England to do Bat Boy, and I came back, and I was up for a couple different shows — like Twyla Tharp's The Times They Are A-Changin'. I had all these different irons in the fire and wasn't really thinking about Jersey Boys. But they wanted me to come in for Frankie again. I didn't necessarily want to go in for Frankie. Then I went and I saw the show, and I saw Christian playing Tommy. And I said, "Tommy. Tommy is the role." So I told them, "No Frankie. Tommy." They said, "Well, we don't know." So I said to my managers, "No Frankie. Tommy." They were like, "Okay." And they called them and said, "Deven is adamant about only coming in for Tommy."
So I came in, and up until that point, I was in the same boat Chris was in: I'd had some success with some other shows and been doing a lot of work, but at the time I was unemployed in New York. The theatre district was still feeling the crunch from 9/11, and there weren't so many new productions or jobs. It was hard to even find Off-Broadway work that paid you enough to live. So I came in with the determination of getting this part. I had long hair, I cut it. I took my only suit out of the closet. I taped up my pant leg because the hem had fallen out. I brought my $100 guitar. And I just walked in and was like, I want to get this role through sheer determination.
I got called back. I studied and studied, just like Erich. I tried to find the perfect audition song. I actually talked with Christian and said, "What do I have to do?" He said, "Play it real; play it honestly. And make sure it's not musical theatre." Those were the best words of advice.
Ingersoll: They still are. The creatives still check in on an intense basis and remind us, "Keep it real. This is not musical theatre; this is a play with music."
May: I went in for my last acting call on a Wednesday. I went in and read the scenes, and Frankie Valli was in the room. I was reading a scene where I was talking with Frankie; I think it was the opening scene. Then I realized, "Wait, there's Frankie Valli right there." And I just started reading the scene to Frankie. The reader was over there reading the part, but I was addressing Frankie. It was really, really great to be able to audition with the guy who the show was after. It was kind of surreal. He got into it and really reacted with me, and it was wonderful.
Then I came in on Friday for the dance call. I put on the plastic pants and the dance shoes and went in there and danced. There were people from all over the place; we all knew each other and were chatting. It was so much fun, despite being hot as Hades in there. They were going to keep some people to read, but they didn't keep me. And in your mind, if you don't get kept to read, you're done. There were three or four other guys there up for Tommy, and I figured I was done. Erik Bates was there, who actually understudies me, and he was an actual Four Season — he played with Frankie on the road. And Erik looks like Christian. Meeting him at the audition, he was telling stories about Frankie, and I thought, "Well, he knows Frankie. He looks like Christian. Okay." So I was just enjoying the fact I had a good time. I left, not with my tail between my legs but just saying I was happy I met these people and gave my best effort. On Monday I got the phone call from my manager, and he said, "You got it." After not being able to get a real good job for a year and a half and doing other things, it was so emotional for me.
Back Stage: How did you research your characters?
May: We actually had a few days of dramaturgy at the beginning of our rehearsal process. Three to four days of table work, just going through the time period and understanding how percentage rates have changed since the '60s to now. The $150,000 that Tommy owes in 1964 would be, like, a million dollars. We listened to ironworkers to get the dialect and found out really what the popular drink was at the time and all the things that were in fashion at the time. We even read through the history, crimes that took place at the time. I actually had the good fortune to read Tommy DeVito's unpublished autobiography. Hopefully, it will come out sometime soon. For me, that was a really great educational tool, to get to know who Tommy was.
Bergen: We're in such a different age as far as what materials are available to us that we were able to do things like go on YouTube and watch great old clips. In fact, Allison [Horsley], our dramaturg, gave us a list of websites to research these things. As far as researching the Four Seasons themselves, finding various clips and videos was very, very easy. It was fun to watch, because here are these four guys who were extremely uncomfortable in front of the camera, suddenly thrown into the spotlight on Ed Sullivan and American Bandstand.
Ingersoll: With Nicky, there's not a lot out there, for a couple of reasons. First of all, when he was in the band and the limelight, they were going to great lengths to cover up most of his background. He was the oldest — I think he was 35 when "Sherry" hit — but the reason he was so old was because he'd spent years in prison. Between he and Tommy, collectively, they spent 18 years in prison. They were trying to mask this because that doesn't sell to teenagers. So it's hard to find records about what they did before the band because they squelched them.
Jones: When I was preparing to audition for the show, I did watch a lot of Sopranos. I did not grow up on the East Coast and was not familiar with the accent as much, so I thought it would be a good way to learn.
Bergen: Did you watch the episodes Frankie was on?
Jones: He's actually on a few episodes. I didn't see all of them, but I watched a couple. He was fantastic. And once we were in the show, we had a great accent coach, named Stephen Gabis, and he would teach us little tricks of the accent and watch runs and tell us where we were slipping out of it and where we were more genuine. He still checks in on us, which is good because you can fall into different accents. We've all got the Valley-girl accent now that we're in L.A.
May: It's little things — like, I said "tex" instead of "tax," and he corrected me. He's so specific and so wonderful. Without him, we wouldn't have been able to come as far as we have with all these characters.
Back Stage: Christopher, with Frankie Valli being so well-known, did you feel extra pressure to do a form of an imitation of him?
Jones: Absolutely. He is the best known and his voice is the best known of the group, so yes, there was pressure to do an imitation. We definitely played with that, and we try to suggest his voice. But I have a different voice than Frankie. I was fortunate enough that the creative team allowed me to suggest him without doing a full imitation of his voice, which would actually be a little hard for me to do and would make it harder for me to perform the numbers and get what I need to get across. And Frankie's come and seen the show and been very gracious and complimentary to the whole process. Because of what Deven was saying earlier about the fact you're getting a story with the show that a lot of people don't know, they allow a little more leeway.
Bergen: The creative team behind this show has been amazing in the fact they've said to all of us, "You're not a tribute band." We're not a Vegas club act. Well, until we hit Vegas. But this is a play. And we are four actors. And the great thing is that Chris doesn't do an imitation of Frankie Valli. The rest of us don't have that pressure because no one knew what the other three guys really sounded like. Frankie was obviously the voice and face of the group. But what Chris does is play a character who happens to represent that of Frankie Valli. It doesn't matter what he sounds or looks like; by the end of the show, all four of us to the audience are the Four Seasons.
Ingersoll: [Audiences] readily suspend their disbelief.
Jones: I have had people come up to me, even with the differences in the voice between me and Frankie, and say, "You sound more like Frankie than Frankie does." Which is a technical impossibility. But it's terrific to hear that they've bought into the story so much that the little differences that there are just kind of slip into the background.
Bergen: And every time we start to worry about trying to sound like the group or imitate something, the creative team immediately says get rid of it.
Back Stage: What's the hardest part about doing the show?
May: After I got the call that I had the job, it was three months before we started rehearsing. And that was actually the most painful time. Because you couldn't really tell anybody.
Bergen: And you couldn't spend your money. You knew you had money coming in, but you didn't have a paycheck.
May: They said, "Tell your mom, tell your dad. But don't tell anyone else." The funny thing is, Erich and I had worked together before and were about to work with each other for the rest of the summer.
Bergen: But we couldn't tell each other we got the job.
May: It was funny; we were like, "What do you know?" "I don't know. Something." Finally we both broke down and said, "Okay, I got it!"
Jones: They still ask me not to tell people I'm in the show. Is that normal?
Back Stage: Did you ever consider going out for one of the other roles?
Ingersoll: I got called back for Frankie until the very last minute. Which is ironic, considering I now sing bass for the group. The two weeks between callback and New York, I was with a voice coach working on my falsetto. Nicky wasn't anywhere in the picture. I sang and read for Frankie, and I think they realized they had more-feasible Frankie types. But somebody said, "Well, what about Nick?" So basically I prepared for two weeks for Frankie and two hours for Nicky. Ron tested my range back down, and I have no idea what the note was I hit, but it was low enough they felt they could go with it. They felt comfortable I could grow into the part, and fortunately I have. What's so great about this show is we all came in with certain things we were already proficient at, and then we had this amazing creative team to help us stretch to the things we needed to grow to.
Bergen: You go through a lot of shows that expect something from you, and if you don't have it, you're fired. And this team has been so fantastic in not only shaping what we can do, in pushing us to our limit, but then they say, "If you can't do it, it's fine. Let's find something else you can do. You can't hit this note? Someone else can take it in this part." The reason why is, this is a play. It's not a by-the-book musical. There are three people now playing Tommy DeVito, and they couldn't be more different. We saw the first show in San Francisco, and I wasn't sure what to expect — if they would do an imitation of us or the Broadway company — and it was like seeing the show for the first time.
May: At one point Des actually said, "We hired you guys for who you are and what you can bring, not what we think you should do."
Ingersoll: So many actors eliminate ourselves from contention instead of giving our best and being ourselves. Which is the hardest thing to do in the world — I don't care how many shows you do. When we received the breakdown, Nicky was preferably taller and a bass. I'm not that tall and I'm a tenor. Our Frankie is taller than both Nicky and Tommy, and he's supposed to be the shortest one
Jones: If you looked at the breakdowns for Frankie, the first batch that went out said he has to be under 5'7″. The second breakdown a month later said under 5'8″. Finally it was under 5'9″, and I was like, "Yes, I made it!"
Back Stage: You're touring for at least a year with the show. And though it's a fairly luxurious tour, with a lot of time in each city, is it still hard to be away from your friends and family?
Ingersoll: I'm the only one of the four of us that is married, although Chris is newly engaged.
May: And I've been divorced. So you have the full gamut.
Ingersoll: My wife is a fantastic actor, and she's based in Chicago. It's a market that knows her. So coming along on the road and not working wasn't an option for us. So I've been away from her since October, and there are some months where we only see each other three days a month, and sometimes we get a week. It's very difficult, but we're doing it, and for now it's worth it. In the show, Bob Gaudio says, "You have your real family and your road family." And I can't tell you how true that is. These guys…. People ask us, "Do you really like each other?" And the truth is, we love each other. We're very fortunate. I miss my real family, but my road family is a great comfort.
Jones: And when he eventually goes back to them, he's going to miss us.
Bergen: There's a lot of people on the road whose partners, boyfriends, girlfriends, come on the road with them. And at first it sounds corny, but I love it; they get jobs with the show, like, selling the merchandise. And there really is this essence that it's family.
May: We're like carnies!
Bergen: There is a way to do that, and it's so neat to see. Everyone's significant others are out here as much as they can be.
May: You make it work because you want it to. And it's very nice to have the support of these guys when you need to talk. Or get a cuddle.