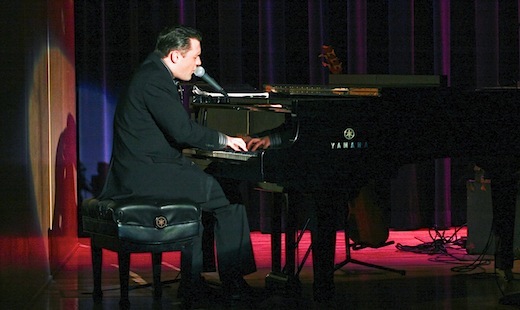 Michael Ingersoll admits that back in 2006 he'd never heard of Jersey Boys. But that all changed for the young actor after a star turn in Pegasus Players' production of Jonathan Larson's tick, tick … BOOM! In her review of the Pegasus show, Sun-Times theater critic Hedy Weiss wrote that she was ready to slip the talented singer-actor a note that read: "Start learning the score for Jersey Boys; you might have a real shot at that hit show's national tour." That comment got the ball rolling for Ingersoll, who has been on the West Coast since last December performing in the musical.
A native of Dayton, Ohio, Ingersoll, 29, worked at theaters in Cincinnati (where he met his actress wife, Angela) and Memphis before moving to Chicago; the Pegasus show was his first big local break. He recently took some time to answer a few questions about the musical that changed his life.
Q. The Sun-Times review of the Pegasus show was a catalyst of sorts. How did it all play out?
A. My agent sent Hedy's review to Jersey Boys casting director Tara Rubin to help solidify an audition slot. In the meantime, the show's musical director Ron Melrose happened to do a Google search on the show and he happened to come across the review. So, essentially, we were working on it from both ends. That's significant because at the time I was non-Equity, and I couldn't just call the Equity office and make an appointment for the audition.
Q.You're pretty young. Were you a fan of the Four Seasons music?
A. Absolutely. I grew up with my parents playing the music. It was the background to every car trip we ever took. I knew most of the hits, but in the show I've learned a lot more about their later work, which I didn't know much about.
Q. You auditioned for the Frankie Valli role but ended up being cast as Nick Massi. How did that come about?
A. Yes, I sought out a voice coach in Chicago and worked on the upper range of my falsetto. I thought it would be that or nothing. When I got to New York, I was the last person to audition for the role. But they had me read Nick and tested my range back down because Nick is a bass [laughs]. Apparently I sing well enough that Ron felt he could go with me. There's something ironic in preparing for two and a half weeks for Frankie and not getting it and preparing two hours for Nick and landing it.
Q. What intrigues you about playing Nick?
A. I love that he's deceptively quiet. When he begins to talk, you really listen to what he has to say. It's from Nick's perspective that you begin to see the inner struggles within the group. He was responsible for the harmonic arrangements, the tight harmony style that defined the group. But he also was the guy who left the group at the pinnacle of its success. Subsequently, he was estranged from the others until the year 2000 when the Four Seasons were inducted into the Rock and Roll Hall of Fame. He died shortly thereafter. I think there are some people who can handle success and some people who can't handle success. I think he falls into that latter category.
Q. What makes Jersey Boys so appealing to audiences?
A. I think a lot of folks expect to see an oldies review but it's not that at all. This is the true-life story of four blue-collar guys who somehow ended up international superstars.
Q. How did you get interested in musical theater?
A. I grew up mostly playing sports and such. When I was 18, I got involved with a student arts organization called the Muse Machine in Dayton. They have an incredible budget for one musical a year and bring in directors and choreographers from New York, along with Broadway quality sets. It was the exposure to theater at that level that made me want to pursue it more seriously.
Q. You played Johnny Cash's brother-in-law in Walk the Line. Was that your first film?
A. Yes. It was a thrill. I had a scene in the movie with Joaquin Phoenix. If you don't remember it, that's because it's a very short scene. [Laughs] But I got to hang out with Joaquin for a day and see how a big budget movie works. It was a great education and a really good credit.
Q. Would you like to do more movies?
A. Absolutely. Most stage actors want to do television and film because at some point we want to retire. [Laughs] I'm hoping that success in theater helps bridge that gap. In the meantime, I'm very grateful for this job. It's really nice to be in a hit show.