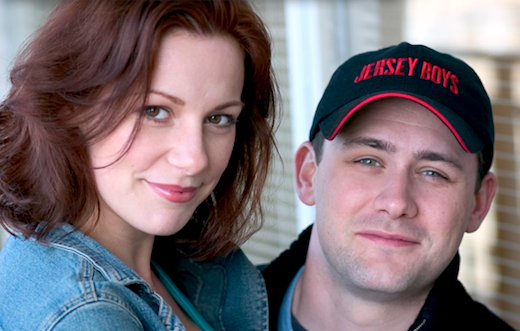 Michael Ingersoll, who stars as Nick Massi, one of the Jersey Boys, now playing to enthusiastic audiences at Chicago's LaSalle Bank Theatre, calls Chicago home. Getting here took perseverance, discipline and, like everything in life, a little luck. This story is also a love story, because Michael is now married to Angela Ingersoll, a talented actress in her own right, having received a 2006 Jeff Award nomination for her role as Martha in The Secret Garden at Porchlight Music Theatre in Chicago.
Here's what happened: After graduating from Miami University, Michael auditioned for an internship with the Cincinnati Shakespeare Theatre. So did Angela Groeschen. "The auditions were rigorous," says Brian Isaac Philips, Artistic Director of the theatre. "Actors from all over the U.S. auditioned, doing monologues, scenes from Shakespeare, and singing as well. Our top choices were Michael and Angela. They were outstanding."
"That's how I met Angela," Michael recalls. "Our first play was A Midsummer's Night Dream, where we played Lysander and Hermia. The rest is history." It's quite a jump from Shakespeare to Jersey Boys, so Michael explains: "Yes, but that year of Shakespeare was a great education. You can really learn how the English language works; neither of us wants to limit ourselves to only one genre."
The next move was to Memphis, where both could further their careers with parts in full-blown musicals. Dave Landis, assistant director at Playhouse on the Square, recalls, "They auditioned and we knew they would be perfect for our productions, and they were." Among others, Angela sang the roles of Aldonza in Man of La Mancha, and Belle in Disney's Beauty and the Beast. Both Angela and Michael starred in I Love You, You're Perfect, Now Change, which they repeated in Chicago at Metropolis Performing Arts Centre. Michael was featured as George in Of Mice and Men and Floyd Collins in Floyd Collins. He garnered accolades in Bat Boy: The Musical after Deven May, who originated the role in New York. (An interesting note: Deven later became friends with Michael when they were in the L.A. national tour of Jersey Boys for seven months.)
"The best thing about Memphis is that Angela and I got married there," Michael says. "We got married on a Monday," he explains, "because it's the only 'dark day' in theatres, and all our theatre friends could attend. Our artistic friends built the 'set' on which our ceremony took place, catered the reception, and provided the music. It was an amazing day—exactly as we dreamed it would be."
And just when you think eight shows a week is laborious enough, Michael earned a black belt in Tae Kwon Do. "I'm not currently studying formally, because it is difficult to do that on the road, but I do maintain a good diet and exercise regimen. In addition to the exercise I get on the show, I do a mix of weight training, cardio and martial arts at least four times a week."
After three years in Memphis, Michael and Angela Ingersoll took a chance by moving to Chicago. "Coming to Chicago wasn't an easy decision," Michael says. "In Memphis, we were always in leading roles. I even had a small part in Walk the Line when we were down there. We were doing really well, but it was time to make the leap to one of the biggest theatre markets in the country… Chicago." It might not have been an easy decision, but it was definitely the right one.
Both Angela and Michael struggled, sent out mailings, headshots, letters… they appeared in some ensemble productions and were earning a living. Then Michael was cast in a part that changed his life. He auditioned for the role of Jonathan Larson's pre-Rent musical, tick, tick… BOOM! at Pegasus Players. According to Alex Levy, artistic director, "The auditions were demanding and we saw many talented actors, but it was clear that Michael Ingersoll was a terrific actor with an amazing singing range." The critics agreed and Michael cites a certain review that led him to his audition for Jersey Boys.
"It was the review Chicago Sun-Times' Hedy Weiss wrote that actually had something to do with that." In her review of the show, Weiss wrote, "His name is Michael Ingersoll… And he's got 'star' written all over him. In fact—I was ready to slip him a note that read, 'Start learning the score for Jersey Boys; you might have a shot at that hit show's national tour.' "
Michael adds, "I didn't know the show at that point, but I took her advice and started learning the score of the music. But the really significant part was that Ron Melrose, who was the music director for Jersey Boys in New York, did a Google search for Jersey Boys to see what people were saying about the show, and because he saw Hedy's review, he put me on the list to audition when they came to Chicago three weeks later."
"They first asked me to audition for Frankie Valli and called me back to New York to audition again. So I auditioned for Frankie Valli all afternoon until at the last moment the director Des McAnuff asked me to read Nick because he thought that would be a better fit for me. Fortunately, I was cast a few days later. "I think it's really ironic that I prepared for two weeks for the role of Frankie Valli and two hours for Nick Massi."
Yes, it is hard to believe. Frankie Valli is known for his falsetto. How did he go from falsetto to bass? Michael was quick to explain, "All four of us can. Actually Jarrod Spector's (who does play Frankie Valli) forte is falsetto, but all four of us have to create that Four Seasons blend throughout the show, so we all have a pretty formidable range… that's one of the reasons we were cast in the show."
Also, as soon as Michael arrived in New York for rehearsals, he did have to learn the fundamentals of the bass guitar. "We all learned our instruments as well as possible." He points out, "Of course, we rely on others during a 'straight' scene, but the combination of the two makes for the dynamics of the show."
The young actors were also about to learn about their counterparts in the show. "These were four kids who could have been voted most unlikely to succeed. Tommy and Nick each spent considerable time in the Rahway (New Jersey) Correctional Facility. After all, knocking over a jewelry store could bring in more cash than a Newark club date," writes Charles Alexander in the soundtrack notes for Jersey Boys. Of course this info was subverted because these guys were trying to sell records to teenagers. And Michael has proof that little Frankie was a troublemaker. "I have a framed mug shot of Frankie in my dressing room, which was given to me by the writers, Marshall Brickman and Rick Elice." He ruminates, "Frankie was only sixteen at the time he was arrested, so unlike Tommy and Nick, he got off because of his age."
Unfortunately, Nick Massi passed away before the show was written. The other Seasons are alive and well. Oh yes, we must include Joe Pesci. Who could have predicted that Joe would one day become the movie star wiseguy who picked up an Oscar? In 1959, Joe was a neighborhood kid who introduced Tommy, Nick and Frankie to a "straight" guy named Bob Gaudio, who not only made up the Fourth Season but wrote a string of their hits, beginning with "Sherry," which he wrote in 15 minutes. It became the tune that would put four kids from Belleville, New Jersey, a shabby working-class town on the outskirts of Newark, on the road to becoming the top recording artists of their time.
"I never met Nick," Michael says. "He died in 2000, shortly after the band was inducted in the Rock and Roll Hall of Fame. I do know he was responsible for many of the musical arrangements." Did Frankie, Bob or Tommy give any pointers about Nick? Michael says, "You know what? Very little. When Nick Massi left the band in the early sixties, after they had three Number Ones and were becoming very big, it was a significant friendship-splitting event. He left so abruptly that he did not speak with the guys for some time. And even now in 2007, when I have spoken to Tommy and Bob, they don't say much about him."
Angela is from Indianapolis, and her parents and sister live there. She happily says, "Because we moved around so much, being in Chicago is wonderful, being so close to home." Although Angela was spending time going back and forth to see Michael, she has been pursuing her career in Chicago. "His role in this exciting show was very much worth the sacrifice of working out scheduling conflicts," she says.
As for Michael's future, he ponders, "It depends what the creative team wants me to do. Right now, I am so happy to share this story with audiences in Chicago, Indiana and Michigan. That being said, if the opportunity arose to perform the role in New York, I would welcome it." Let's hope Michael stays with the Chicago cast for a long time. He's brilliant in the role of Nick Massi, as are the others in the show: Jarrod Spector as Frankie Valli, Jeremy Kushnier as Tommy DeVito, and Drew Gehling as Bob Gaudio.