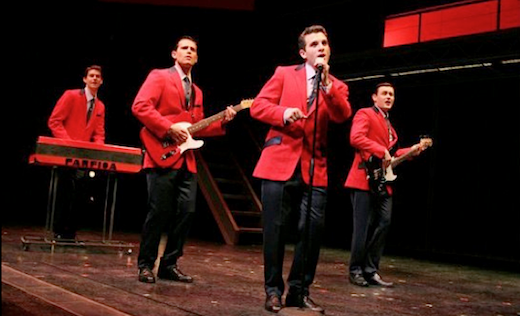 It's a story of rags to riches, of victory for the underdog, a Rocky for the ages. The hit musical Jersey Boys is the story of Frankie Valli and the Four Seasons, Italian boys from the wrong side of the tracks who chose a life of song over lives of crime, and it has already steamrolled its way into the hearts of audiences in New York, San Francisco and Los Angeles. Now it's in Chicago for, at the very least, a six-month engagement. In fact, more than seven months before Jersey Boys even hit the Windy City stage last month, its run was extended by 14 weeks – the show has garnered that much buzz since it came away with a bunch of 2006 Tony Awards, including Best Musical, Best Book of a Musical and Best Director. "The response has been mind-blowing," says co-writer Rick Elice.
"I'll tell you something unique about this show," comments Chicago-based actor Michael Ingersoll, who has played Nick Massi since the national tour debuted in San Francisco in December 2006. "We've been able to do things this year that are usually reserved for TV personalities and recording stars. We've been on The Tonight Show With Jay Leno, sang the National Anthem for opening day of the San Francisco Giants game, performed at the Emmy Awards – those things don't typically come the way of stage actors."
Like a little show here in town about a misunderstood green witch, Jersey Boys is expected to cast its own spell – and may just stick around for an open-ended run. "Wicked was very brave to make the move with us in announcing their long-run engagement in Chicago and basically stating that they're here until there's no longer an audience. And the Jersey Boys are showing the same commitment," comments Broadway in Chicago president Lou Raizin. "All the signals and signs we see today show it to be a blockbuster success."
For a Chicago actor like Ingersoll, doing a hit show for an extended run is a dream job. " The advantages for the actor is you can live in one place and make a predictable living; that is a rare privilege in this business," he says, emphasizing how nice it'll be to live at home with his wife for a change. But Ingersoll realizes it's not all about him. "I think the city gets two things. The city gets the revenue that comes form supporting a show like this… and the community gets to develop a rapport with the show and the people in it."
So what makes Jersey Boys so special that the LaSalle Bank Theater is already booking tickets months ahead and planning its continuing curtain call? Director Des McAnuff jokes, "I wish I knew so I could do it again." But seriously, he says, "I think the music is addictive [think "Big Girls Don't Cry," "Walk Like a Man," "Sherry," and "Can't Take My Eyes Off Of You"], and the Seasons were one of the few bands that really evolved." Even the Beatles didn't stay together long enough, as McAnuff reminds us. "That's a fantastic help when it comes to just telling their story."
Even beyond the great music and the actors' uncanny impressions of their real life characters (three of whom are still living), it is, it seems, the story that keeps people coming back to Jersey Boys. "I think people can see themselves in these characters," Ingersoll says. "They're fully developed, flawed people who are struggling to succeed just like everybody else. They experience problems with their wives, children and the death of loved ones." Plus, there's an added bonus for the producers: The story appeals to men.
"Theater ticket sales are traditionally female-driven," Raizin notes. "Jersey Boys is meat-and-potatoes meets theater." And something else fairly unique about this show: Unlike some other musicals about recording artists, this one doesn't string the plot together through the songs. The songs are simply part of the story.
"Even people who think they don't like musicals are really surprised by this one," McAnuff says. "You're really watching a band perform songs – there's no scene in a diner where everyone suddenly jumps on the tables and breaks into song."
"It's a biographical behind-the-music look at these four guys who formed the band, lived the band. It's their rise and fall," Ingersoll says. To build the story, the writers use a clever setup: Each act is a change of season in which one of the four group members gets to narrate their perspective of events. "What you have is this really great play that can stand on its own as a great play mixed with this legendary music," Ingersoll says. "The kicker is, it's all true."
"It's one of those shows that elevates you and brings back memories… It's really a show with a heart," Raizin says. "It's hard to describe the 'it' factor in any particular show, but this show, like Wicked, has it."