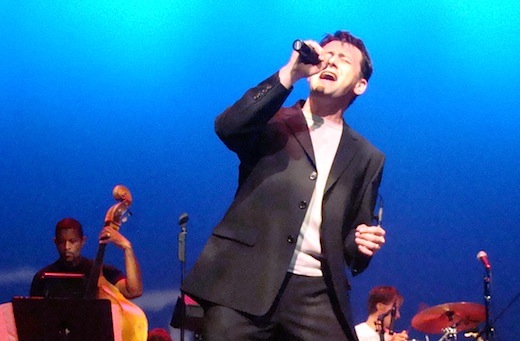 On Monday, July 21, Jersey Boys star Michael Ingersoll delighted and awed the sold-out crowd in an exclusive cabaret show, The Long Road Home. His charm, personality, charisma and wit were evident on stage as Michael sang his favorite songs and entertained his adoring audience with stories of his life as a professional actor.Michael was more than happy to return home to the Metropolis Stage, where he starred as Jordan in 2006's I Love You, You're Perfect, Now Change. Before becoming a seasoned actor in the national spotlight and rocketing to fame in Jersey Boys, Michael started his theatrical career in Cincinnati and Memphis, making his film debut in Walk the Line. He quickly found himself taking Chicago by storm in Tick, Tick… Boom, the autobiographical musical of Jonathan Larson, Rent playwright, before working at Metropolis. His most acclaimed performance is in the national tour of the Tony award-winning Best Musical, Jersey Boys, which he has already performed over 600 times.
"It's a real testament to Michael's hard work, dedication and talent in putting this show together," said Executive Director Jim Jarvis. "It's extremely difficult to develop a quality cabaret show, especially with the demanding schedule he has with Jersey Boys, but it's one of the best cabaret shows I've seen."
This was the first time Michael had done a cabaret-style show of his own, and was thrilled to have the opportunity.
"When you've been in an extended run like Jersey Boys, it's a real treat to be able to sing new material with incredible musicians," said Ingersoll. "And I had a great time sharing some of the unbelievable experiences I've had on the road with the people who helped launch my career."
His "unbelievable" experiences include playing at the Emmy's with Tony Bennet and chatting on Jay Leno. Now, he can add his sold-out Metropolis cabaret show to the list. The audience fell so in love with Michael that a buzz spread about his performance and fans kept calling the box office for another chance at tickets- leading Metropolis to invite Michael back for two more shows. Tickets for both the August 18 and 25 show sold out as well, within one day of becoming available!
"The response to Michael's show was overwhelming," said Jarvis. "The box office was inundated with phone calls and walk ups trying to get tickets. To meet that demand and to make sure our patrons had a chance to experience Michael's amazing show, we added two more performances. We're trying to work out some dates to add at least one more show. We're keeping our figures crossed it works out."
Though the crowd swooned to Michael's tenor/baritone voice, they were thrilled when his guest-stars showed up. His wife, Angela Ingersoll, is also an actor- the couple starred together in Metropolis' 2006 performance of Perfect/Change and haven't been back since. Angela sang a solo song of her own before the two performed a playful but enthused duet of I've Had The Time Of My Life. As the performance began to wrap up, Michael teased his audience, knowing that they were all dying to hear some of the songs from Jersey Boys. Normally actor Jarrod Spector, who plays Frankie Valli, sings the lead vocals in the songs, but tonight Michael would get his chance at the lead. Not without audience opposition, though. Turns out Spector was in the crowd watching, along with Jersey Boys' Drew Gehling and John Hickman. Michael feigned surprise at his co-stars appearance and invited them up to the stage where they sang the songs they prepared in rehearsal before, letting Michael take the lead and singing as his back-ups.
Fans were lucky to catch a glimpse of the great chemistry between the couple and between the actors backstage. Michael's amiable personality was clear on stage but became even more apparent at the Meet-n-Greet after the show. Marquee Members enjoyed the opportunity to talk with Michael about his performance, get his autograph and take pictures with him.
"Michael was incredibly personable," said Randal Ann Klaproth, Development Associate. "He was very gracious and made sure to shake hands and talk to each of our Marquee Members. These were his fans and he was honored that they had come to see his cabaret performance. He is genuinely down to earth and charming!"
Michael was excited to have such enthused audience members and was gracious for their generous support. Both Michael and Angela reflected on the entire Metropolis experience, saying it was like "coming home."
"It was a terrific night at Metropolis. I'm sure everyone there had an outstanding time. I certainly did. The concert was fantastic- all of it- and the reception was perfect. A job well done!" said Judy L'Amoureux, Marquee Member.
And everyone did have an outstanding time.