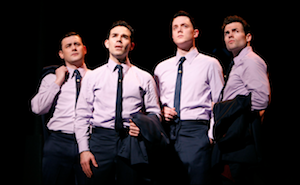 By the time Jersey Boys bids farewell to Chicago with its Sunday matinee at the Bank of America Theatre, actor Michael Ingersoll, who plays the role of Nick Massi, will have sung "Sherry" well over 1,200 times.
That statistic (which includes his pre-Chicago appearances in the national touring company that played San Francisco and Los Angeles), doesn't even begin to account for all the replacement and understudy rehearsals, or the many special event and publicity appearances he has participated in as the only member of "the group" who has been with the Chicago production from the start. So no matter how hooked one might be on the irresistible harmonies of "Sherry" — that hit song by Bob Gaudio that put Frankie Valli and the Four Seasons at the top of the pop charts in 1962 — you might suspect Ingersoll would never want to sing it or hear it again in his life.
Yet that is not the case at all. The actor considers himself one of the luckiest people around."To have been in an uplifting hit Broadway show, in the city where my wife [actress Angela Ingersoll] also works, and to make it through a really bad recession with my best job ever [including health insurance], while so many other people had to fight for minimum wage — well, that's a gift," said Ingersoll, who previously had been working at Pegasus Players and the Metropolis Theatre in Arlington Heights. "On top of that, to play Nick has been a real honor."
And so what if the show didn't beat the Wicked statistics. Yes, that show played at Chicago's Ford Center for the Performing Arts, Oriental Theatre for three and a half years. But Jersey Boys, which began previews on Oct. 5, 2007, and became a resident sit-down production here as of Feb. 28, 2008, is now officially the second-longest-running Broadway musical in Chicago history. As of closing, it will have played 27 months – a total of 951 performances – and been seen by 1.3 million patrons. And remember, Wicked arrived here in flush economic times and attracted such a massive audience of young girls that it easily could have been mistaken for a Miley Cyrus concert.
"At an average performance of Jersey Boys we might have seen 10 kids in our 1,800-seat house, rather than the 900 who came to Wicked," Ingersoll said. "But we had great crowds. And considering the economy, the producers did an amazing job of timing the release of tickets and orchestrating the marketing."
They also made sure the level of the show was kept very high. "We had at least one crucial creative person – our director, choreographer or musical director – come in to check up on the show every six weeks or so to make sure it was fresh," the actor said. "And every time someone in the cast moved on, we had a whole new round of rehearsals. We started with a cast of 19, and over the course of the run, we had about 15 or 20 new people move into it. I've been on stage with four or five different Frankies [including long-running matinee performance alternate John Michael Dias]."
Lou Raizin, president of Broadway in Chicago admits "you can never be sure how a show will do here, no matter how strong it is. But we had a feeling Jersey Boys was a real meat-and-potatoes, Chicago-type musical. "And ironically enough, the recession didn't substantially affect the box office," Raizin noted. "That's because unlike New York, which depends heavily on a 'fly-in' tourist base, Chicago attracts a largely 'drive-in' audience. About 40 percent of our market is within 100 miles of Chicago."
Raizin estimated the overall economic impact of the Chicago Jersey Boys production has been immense – more than $100 million once local labor, advertising, hotels, restaurants, cabs and all the rest are factored in. "That's one reason why we think the state should begin to look at us in the same way it does the Illinois Film Office," Raizin said.
As for Ingersoll, he's already got more work lined up. With barely time for a post-closing breath of freedom, he will be producing and starring in Steppin' Out With Michael Ingersoll, a one-night-only engagement (at 8 p.m. Jan. 16) at the Paramount Theatre in Aurora that also will feature his wife, who recently completed a run in Chicago Shakespeare Theatre's Richard III, as well as fellow members of the Jersey Boys Chicago cast.
He's also starring in Michael Ingersoll And The Boys at the Metropolis Performing Arts Centre in Arlington Heights on Feb. 1- 2 (his shows there on Jan. 18-19 are sold out). "I'm as excited by my burgeoning producing activities as I am by being onstage," the 31-year-old Ingersoll said. "Producing is a great alternative to having to ask permission to work and pay the rent."
His next full-time job, beginning in March, will be at the new $11 million Playhouse on the Square in Memphis, Tenn. He'll play legendary British television interviewer David Frost in Frost/Nixon. And he won't sing a note.