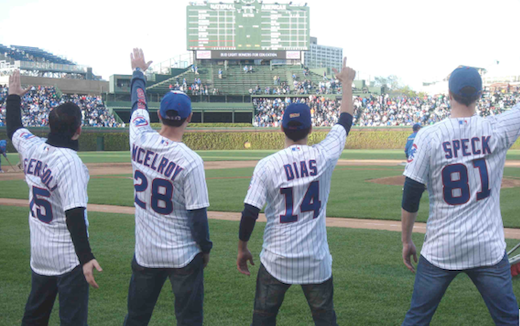 Over the years, Wrigley Field has seen its share of earplug-worthy crooning during the seventh-inning stretch- from Mike Ditka's infamous shouted rendition to this year's off-key performance by NFL quarterback Tony Romo.
However, this season Cubs fans were treated to one of the most beautifully harmonized versions of Take Me Out To The Ball Game when a quartet of Broadway stars from the Tony-winning musical Jersey Boys visited Wrigley Field on May 12.The musical tells the story of four blue-collar guys who sang their way to becoming one of American pop music's biggest sensations: The Four Seasons. The group produced a flurry of high-pitched mega-hit singles like Big Girls Don't Cry, Sherry, and Can't Take My Eyes Off Of You.
Chicago cast members John Michael Dias (Frankie Valli), Michael Ingersoll (Nick Massi), Bryan McElroy (Tommy DeVito), and Jake Speck (ensemble member) gave Cubs fans a taste of the exceptional singing and dynamic personalities in Jersey Boys.
Scoring a role in the production was not easy, however, as the audition process to select these actors was meticulous. "My first audition was in April 2004, and I finally was cast in April '07. It was a three year process. They kept bringing me back in," Speck said. "I honestly had no idea then that it would become this enormous, worldwide phenomenon."
The success of the show has offered the actors unique opportunities."The job has allowed us things that stage actors don't normally get to do," Ingersoll said. "Trying to get a job that compares to this afterwards is going to be really hard." One of those opportunities was coming out to Wrigley Field to sing Take Me Out To The Ball Game. But did they rehearse the song? "We just went out there and did it. We're so connected," Ingersoll said. "We were like, 'What key are we doing it in? OK, great!'"
One of the cast members especially was in seventh heaven. McElroy hailed from the nearby Northwest Chicago suburb of Elk Grove Village. "This was like a dream come true for me," said McElroy. "I've always been a Cubs fan so this was exciting for me. And of course, my parents were thrilled."
Although Jersey Boys has brought glitz and glamour to the actors, the most rewarding aspect has been the crowd-pleasing effect the show has had on its devoted audience. "It's an amazing thrill from start to finish, and the music is incredible," Dias said. "I've done a lot of theater, but this is by far the craziest, most amazing audience reaction."
"Jersey Boys has been a win-win for both actors and fans. You have so many tough things going on in the world, people need some kind of relief," Ingersoll said. "You feel like you've actually done something with your time that day that mattered."