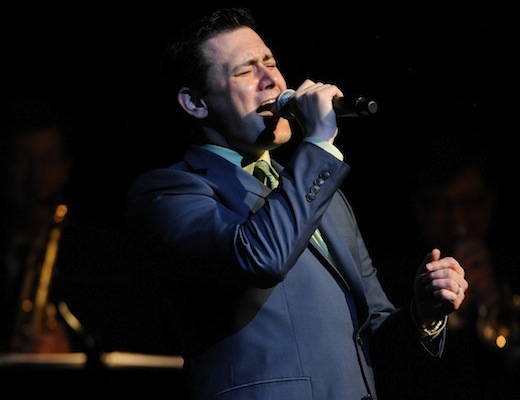 Michael Ingersoll's not saying "Bye Bye Baby" to the Chicago area yet. Although Jersey Boys, where Ingersoll has been performing as Nick Massi for more than two years, closed Sunday after 951 performances – making it the second-longest-running musical in Chicago history (after Wicked) – local audiences can still hear Ingersoll and the boys in a series of suburban benefit concerts.
Two January shows are already sold out, but there are still tickets left for a Saturday, Jan. 16, concert at Aurora's Paramount Theatre and two February dates at Metropolis Performing Arts Centre in Arlington Heights. "These suburban communities have embraced me," Ingersoll says. "Those people have made me successful.""People have come back again and again. And it's not because they want to hear 'Sh-Boom' for the sixth time." The evenings include golden oldies, doo-wop tunes, Rat Pack favorites and personal stories of family, show biz and Jersey Boys from Ingersoll; his wife, Angela Ingersoll; and John Michael Dias, Shonn Wiley and Michael Cunio, lead cast members of Chicago's Jersey Boys. They'll be backed by Ted Hogarth's 15-piece Mulligan Mosaics Big Band. The song list offers such tunes as "Sh-Boom," "I Wonder Why," "I Get Around," "The Way You Look Tonight" and "What is This Thing Called Love?"
"We relax and we have a martini on stage," Ingersoll says. "We joke with each other and play around. We do things you couldn't see downtown in Jersey Boys." The shows enable him to have a closer relationship with audiences, he says. "I feel like we're in your living room."
Ingersoll has been producing concerts to raise funds for local charities for the past year and a half. "We started out with just me and my wife, Angela, and a five-piece band," he says. He began the concerts, he says, at first as a way to keep himself from growing stale as he sang the same songs night after night in more than three years of Jersey Boys. Ingersoll originated the role of Nick Massi for the first national tour of the musical story of 1960s singers Frankie Valli and The Four Seasons, before joining the local cast."You've got to keep your chops up," he says.
He also wanted to give back to the community. "Being in Jersey Boys has fundamentally changed my life and my career… Chicago has been incredibly good to me," he says. "I wanted to do something that had a lasting, tangible effect."
Over the last 18 months Ingersoll has raised some $150,000 for local charities. For example, his concerts contributed $36,000 to Arlington Heights' Metropolis Outreach, which provides performing-arts education through in- and after-school programming, including work with special-needs children, seniors and terminally ill patients in hospices.
"I've worked with hundreds of artists over the years, but I've never met one with such compassion for others and the drive to help people and make a positive impact on this world," says Metropolis Performing Arts Centre Executive Director Jim Jarvis.
"It added a dimension to being an entertainer," Ingersoll says.
For now, Ingersoll, a Dayton, Ohio, native, remains based in Chicago, where he worked before Jersey Boys in such productions as Tick, Tick… BOOM! with Pegasus Players and I Love You, You're Perfect, Now Change at Metropolis Performing Arts Centre. "I don't have any large-scale plans," he says, although he's cast for a six-week run in Frost/Nixon in Memphis in the spring. "I'm more interested in continuing to produce these concerts than going back to the traditional auditioning grind. "I'm not sick of it or anything, but I'm ready to see what's next."