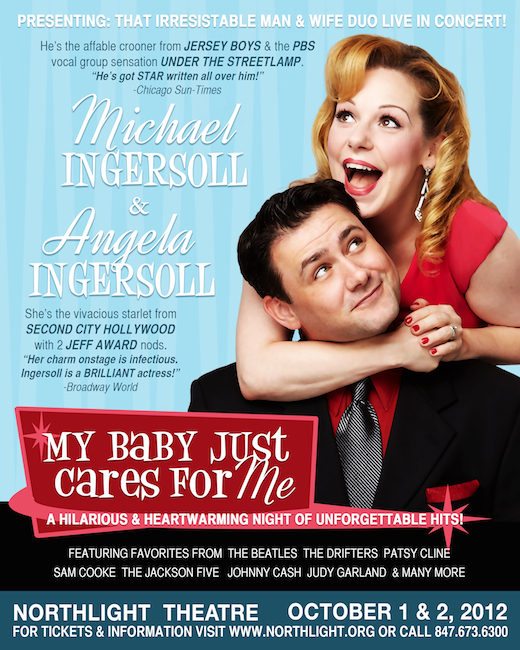 The wife and I are putting together a shindig at Northlight. From the Broadway World Press Release:
Monday, October 1 and Tuesday, October 2 at 8:00pm at Northlight Theatre
Sparks fly as irresistible husband and wife duo Michael and Angela Ingersoll share the spotlight for a scintillating night of classic pop favorites. He's the affable crooner from Jersey Boys and the PBS vocal group sensation Under the Streetlamp. She's the vivacious starlet from The Second City Hollywood with two Jeff Award nods. Together the playful pair woos audiences with all the candor and chemistry of a modern day George and Gracie. Their hilarious, heartwarming soiree features unforgettable hits from The Drifters, The Beatles, Johnny Cash, Patsy Cline, Sam Cooke, Lesley Gore, Bobby Darrin, The Jackson Five, Judy Garland, and many more. It's love in concert, live in concert.
"To premiere Michael and Angela Ingersoll's new production My Baby Just Cares for Me at our first annual Fall Benefit is a real treat for Northlight," explains Tim Evans, Executive Director. "This amazing husband and wife act joins the ranks of George and Gracie, Lucy and Desi, and Louis and Keely with their new show that glimmers with wit, humor and unforgettable music. It's the perfect way to usher in a new tradition of benefit performances at Northlight."
Angela Ingersoll met her husband onstage, cast as star-crossed lovers in a romantic romp by her favorite playwright William Shakespeare. Eleven years later, her blank verse grows somewhat more perverse as she flourishes in the Los Angeles sketch comedy scene. Catch Angela beguiling audiences onstage at Second City Hollywood, IO West, Hollywood Improv, Upright Citizen's Brigade; and online at Funny or Die, College Humor. Theatre highlights include: Drury Lane: The 39 Steps; Apple Tree/Auditorium Theatre: The Mistress Cycle (Jeff Nominated); Chicago Shakespeare Theater: The Comedy of Errors, Richard III, Macbeth; Porchlight: The Secret Garden (Jeff Nominated); Light Opera Works: South Pacific; Madison Rep: Carousel; Playhouse on the Square: Beauty & the Beast (Ostrander Award), Jekyll & Hyde (Ostrander Award), Macbeth (Ostrander Award), Bat Boy: The Musical (Ostrander Award), Man of La Mancha (Ostrander Nominated), Ragtime (Ostrander Nominated); Cincinnati Shakespeare: Arcadia (Enquirer Nominated), Twelfth Night, A Midsummer Night's Dream.
Michael Ingersoll met his wife onstage, cast as whiny lovers in a sappy snooze-fest by his least favorite playwright William Shakespeare. Eleven years later, he's ditched the doublet and hose and donned a sharkskin suit to form America's hottest new vocal group, Under the Streetlamp. Catch the quartet on PBS rocking the American Radio Songbook in their breakout concert special, recently featured on Access Hollywood and Extra. Streetlamp is selling out cities nationwide on their inaugural tour, with a second album due for the holidays. For upcoming dates and more visit underthestreetlamp.com. Prior to PBS-rockstardom Michael spent three years portraying Nick Massi of the Four Seasons in the smash hit Jersey Boys, playing sold out runs in San Francisco, Los Angeles, and Chicago. His Jersey Boys television appearances include The Oprah Winfrey Show, The Tonight Show with Jay Leno, PBS' Capitol Fourth, The Primetime Emmy Awards.
For tickets call the Box Office at 847-763-6300 or visit www.northlight.org