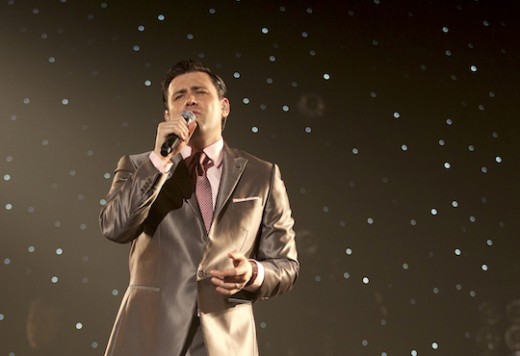 from the Dayton Daily News  article "Kettering native co-creates retro quartet Under the Streetlamp"
…The group's terrific, personable debut CD and DVD (available exclusively through PBS) continues to gain momentum, especially as they embark on their first tour… In advance of Under the Streetlamp's appearance in our region, Ingersoll, who particularly supplies wonderfully smooth and sincere renditions of "Pretty Woman," "Save the Last Dance" and "Cupid," reflected on the troupe, the tour and the timeless songs of a bygone era that continues to bridge generations.
Q: What pleases you the most when you look back on Under the Streetlamp's origin?
A: "It all started by accident. We started doing this for fun on the nights off from 'Jersey Boys,' but have since invested all we have to see what this group can become. We want to see if we can maintain a project that is ours, a project that we can guide and have ownership over to overcome the cycle of employment and unemployment that is the reality of actors."
Q: Is it difficult to maintain a sense of individuality in a quartet?
A: "Not the way we do it. By design, we're a quartet with four lead singers, which is very rare… All four of us sing in different styles as well and we don't step on each other's toes. When we choose our music, we almost know immediately who will sing lead. Shonn is a great crooner and showman. Chris is a very soulful balladeer. Michael is drawn to Motown material and has an awesome range, particularly singing 'At Last' in Etta James' original key. I'm more of a rock and folk kind of guy. Our goal has always been to take our four individual strengths and make this group better than the sum of its parts."
Q: Are you or are you not surprised there is a huge market for the kind of nostalgia you're presenting?
A: "I'm not surprised at all. If there's one thing I learned from doing 'Jersey Boys.' it's that there is an incredible enthusiasm for music primarily rooted in doo-wop. I knew I found an audience I wanted to serve. Also, our group chose to label the songs we sing as being from the American Radio Songbook rather than the Great American Songbook because we're dealing with songs from the time when radio was king. Some songs from the Great American Songbook never received radio play."
Q: What is your favorite part of the concert?
A: "All of us enjoy the Soul Medley consisting of 'Rescue Me,' 'Nowhere to Run,' 'Get Ready' and 'Baby I Love You.' The audience gets really into it. I also enjoy singing 'Hey Jude.' "
Q: What do you feel are the special traits within the songs you're saluting? Why have they had such staying power throughout the decades?
A: "The music from that time period was not particularly profane. The themes were about love, friendship and family. I also think music rooted in vocal harmony naturally catches our collective hearts. One of the hallmarks of our show is that all of the music we deliver is life-affirming, music designed to make you feel good. We want our fans to be happy and our music to be great. We want to take the music very seriously without taking ourselves very seriously."