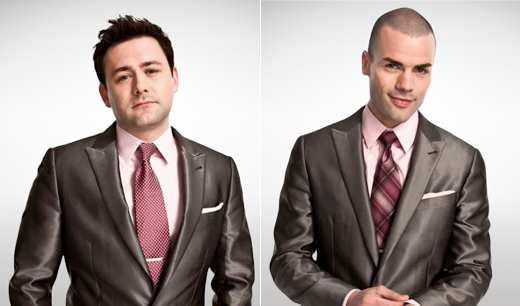 Chicago Sun-Times talks with the Michaels, Cunio & Ingersoll
Talk to members of the quartet known as Under the Streetlamp, and invariably the guys will refer to their success as nothing short of a dream coming true. That might be over-simplifying the journey that Michael Ingersoll, Michael Cunio, Christopher Kale Jones and Shonn Wiley took to get to this point in their careers — and their lives. But arrived they have, playing to sold-out crowds, starring in their first national PBS special, and, oh yes, then there's that first national tour they're kicking off May 12 at the Park West, in addition to the release of their debut DVD and CD.
And on one level, they have Chicago to thank for all of it.
The musical "Jersey Boys," which played Chicago for 27 months beginning in 2007, ultimately united Ingersoll, Cunio and Wiley, who co-starred as the Seasons during the final months of the show's run in 2007. (Jones, who later toured nationally with the musical as Frankie Valli along with Ingersoll reprising his Seasons role, would eventually come on board to complete the Streetlamp quartet.) Make no mistake — the group is not an extension of "Jersey Boys" (in fact only three Four Seasons tune are featured in their 90-minute set); rather, Streetlamp is all about Motown-meets-pop-meets-soul-meets American Top 40 radio of the '50s and '60s, delivered in four-part harmony from this self-described "man band" of thirtsysomethings.
Ingersoll and Cunio talked to the Sun-Times about their musical journey and "coming home."
Question: Do you have to pinch yourselves sometimes to make sure your success is real?
Michael Ingersoll: [Laughing] Sometimes we really do. This all started in Chicago; our biggest fans are there. The only reason we've arrived at this point is because the people in Chicago were there for us from the beginning, when we were just doing gigs on our ["Jersey Boys"] off night around town. We had a lot of help, whether it was coming out to a show, or talking about us on Facebook, or on the professional side of things, just having people who wanted to take a chance on what we were doing.
Michael Cunio: Any career in entertainment is seasonal. You have good years and bad years. But if you know that deep down whatever happens is going to be temporary you will always have the presence of mind to really appreciate and be humbled by the good. And that will get you through the tough times. We don't take any of what we do for granted for a second.
Q. What is it about this music that resonates with people?
MC: When people are going through tough times, I think they maybe want to return to a simpler time. After World War II and prior to Kennedy's assassination, America was all about hope, prosperity and promise, and music reflected that. Sharing that music with people today who know every lyric and who get up and dance, there's no words for the kind of joy that it brings us every time we're out on that stage.
MI: From "Jersey Boys" I learned the overwhelming enthusiasm people still have for the music of the 1950s and '60s. There's something about that period that is rooted in vocal harmonies, and I think people still love that. There's such an authenticity about it, before you could make music on computers.
MC: There is a soul and a purity to this music. I see it in singers such as Adele and saw it in Amy Winehouse — this return to real voices and away from the hyper-processed pop music. A shift away from being lied to with Photoshop and reality TV. We see the passion people have for what we call the Great American Radio Songbook — people like the Drifters, Dion and the Belmonts, the Spinners. Finding our own personal harmony blend to breathe life into this music has been so fun to discover.
Q. Michael, you started this group, which had a few incarnations before you landed this optimal foursome. How did you know this was the right mix?
MI: The single greatest advantage to starting your own group is that, in my case, I know what I don't do well, so I don't do it in front of anybody else anymore. [Laughs] In musical theater I was always auditioning against people who had legitimate musical theater voices, something I did not have. I was born to sing things like the songs I do in the show, like "Pretty Woman," or an Elvis song. Each of the guys in this group has a distinct skill set, and because of that, we don't step on each other's toes. I will never sing rock like Cunio, or a ballad like Chris, or tap [dance] like Shonn. That's why I hired those bastards [Laughs]. We're a band with four lead singers. I don't know of any [group] that can say that.