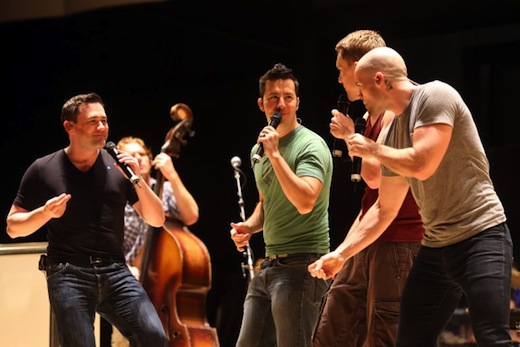 NWI TIMES: Entertainer Michael Cunio promises audiences a party at every performance of Under the Streetlamp, the skyrocketed foursome of talented young singers introduced as new stage faces just two years ago. "Fans already know what to expect, and can count on a mix of favorite songs they know and love," Cunio explained last week during a break in rehearsals at Star Plaza Theatre in Merrillville, where he will perform Saturday with his three crooning counterparts before television cameras and plenty of applause. "Add to the experience fresh musical numbers and some surprises and it's like a party where everyone is invited."A year after their first PBS taped concert special proved popular with national audiences, the musical group Under the Streetlamp is back at Star Plaza Theatre preparing to tape a second PBS concert on Saturday with fan-filled audiences once again along for the ride.
Cunio, along with Michael Ingersoll, Christopher Kale Jones and Shonn Wiley returned to Northwest Indiana late last month for three weeks of rehearsals at Star Plaza Theatre to prepare for the taping, which features them showcasing songs they've not previously included in their concerts, DVD, CD or last year's national launch tour.
"They are young talents who exceed expectations every time and that's why they have such success so soon with a great fan base," said Charlie Blum, CEO and talent buyer for Star Plaza Theatre, who also is the group's manager and executive producer of Saturday's TV special. "Their first PBS special is still airing as part of the two and a half year run, which is positive proof of how promising the four careers are for the guys Star Plaza audiences and PBS viewers are witnessing emerging on what's a tough entertainment scene in today's industry."
While the four share a common bond as former cast members from the hit stage musical "Jersey Boys," they are now a brand that reaches far beyond just fans of the Frankie Valli Broadway musical that was their original connection. For the past two years of tours, CDs and the hit TV special, the quartet has dazzled by performing classic hits from the American radio songbook for a concert of songs described as "Doo-wop ditties, Motown melodies and cool Rat Pack."
"Talking about just what musical numbers and songs we have planned for Saturday is a little tough to do, because we want it to be a surprise for the TV taping," Ingersoll said. "But what audiences are going to be part of will please and everyone is going to know these great selections."
Wiley said the group has learned plenty while performing on the road for the most recent tour that has been more than a one-year investment of energy. "Even while on stage, we've learned a lot about self-editing," Wiley said. "We want our interaction and humor to be real and not forced. But also, we know the balance between singing and the time spent involved in between songs with the audience."
Blum describes the success as an ideal blend of "concert camaraderie." "Tickets for Saturday's concert have been in demand since they went on sale, with just a few that remain but still great seats," Blum said. "The seating gets tricky since the lighting and television taping requirements require us to block off some of the seating in the theater. But audiences know it's special to have the chance to be part of something as unique as a television taping of a national broadcast."
Saturday's two-hour concert will later be edited to create the one-hour TV special that will air in March on PBS in time for the spring pledge drive.
The pressures of creating the perfect television special captured by cameras can also be a bit frightening Jones confides. "Everything the audience sees and hears and participates in Saturday is going to be around for a long, long time," Jones said. "This is a concert we want to air repeatedly, just like the first one, because it's that good. That's a mix of both pressure and excitement. But just like fans, we're ready."