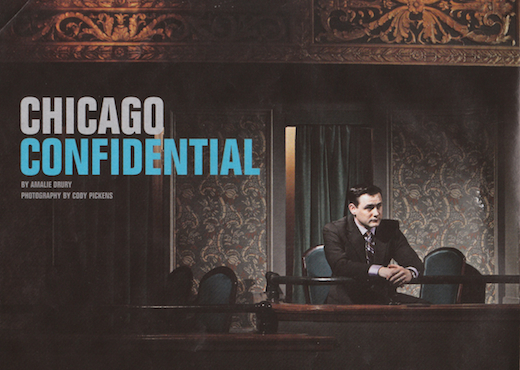 Michael Ingersoll, 29, wasn't born and bred on Broadway. A native of Dayton, Ohio, he didn't spend his childhood going on casting calls and auditions. Instead, Ingersoll was bitten by a late-onset acting bug during his senior year of high school, while doing a stint in an equity-caliber production of Me & My Girl. "That experience opened my eyes," he says. It prompted him to major in acting at Miami University in Oxford, Ohio, and he's never looked back.After a few years in the Memphis theatre scene, Ingersoll and his wife, Angela (the two met while playing opposite roles in A Midsummer Night's Dream at Cincinnati Shakespeare Festival) decided to try their luck in Chicago "while we were still young," he says. In 2005, they headed north, joined the union and began getting jobs, but in the grand tradition of stage careers, the work wasn't always steady. Then came Ingersoll's big break: He was cast in the role of Nick Massi in the Chicago production of Jersey Boys (the story of Frankie Valli and the Four Seasons), which begins an extended run at the LaSalle Bank Theatre this month. With Jersey Boys hoping to break Wicked's record for the longest-running Broadway show in Chicago, Ingersoll is settling in for a nice long stretch at home.
CS: So, how did you get the part?
MI: Right before Jersey Boys won the 2006 Tony for Best Musical, music director Ron Melrose did a Google search for his own show. A review by (Chicago Sun-Times critic) Hedy Weiss popped up. She had seen me in Tick, Tick, …BOOM! at Pegasus Players, and she wrote, "I was ready to slip him a note that read: 'Start learning the score for Jersey Boys; you might have a real shot at that hit show's national tour.'" Melrose put me on the list to see when they came to Chicago to hold auditions.
CS: What do you miss about Chicago when you're out on tour?
MI: I know the CTA has its problems, but I miss things like being able to get on the El and see a new neighborhood every two stops. I miss a certain sense of community and heart that I don't find in Los Angeles or San Francisco. I miss my wife!
CS: What do you have in common with your character, Nick Massi?
MI: Well, he's an obsessive compulsive alcoholic and personal mess, so I hope not too much. But he can also be very endearing and charming. He's got home tugging on his heartstrings, and I've been away from home for a long time, so that's familiar to me.
CS: Do you ever get tired of singing the same songs and saying the lines night after night?
MI: No, for a few reasons. There are only so many mega-hits in musical theatre every decade. To have consecutive years of employment is a rare privilege. Also, some people have paid $100 a ticket, given them as birthday presents, hired babysitters, the works. They're coming out to support the theatre instead of watching TV, and I want to make sure they have the best celebration possible.
MICHAEL'S FAVORITES: Favorite Restaurants: The Italian Village for Chicken Parmesan, Chicago Joe's for Key Lime Pie, Cafe Iberico for tapas. Hidden Gem: The Chicago Botanic Garden is a treasure-serene and gorgeous. Shopping: Sacred Art in Roscoe Village; the German Christkindlmarket in Daley Plaza during the Holidays.