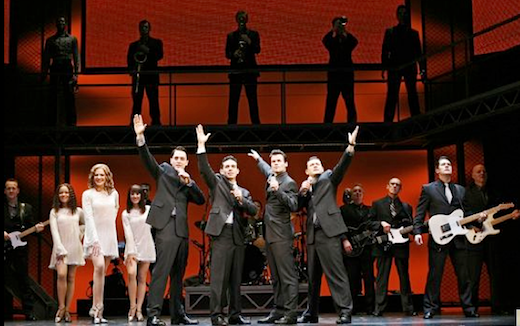 Jersey Boys came into Chicago walking like a man and leaves on its feet. The Broadway musical about Frankie Valli and the Four Seasons is closing Sunday after 951 performances and more than two years in the Loop, a nationally touring show that became a dedicated Chicago production. And when the curtain comes down at the Bank of America Theatre at the end of the 2 pm matinee, there will be one Jersey Boy who was there to see it first rise. Michael Ingersoll has played the character of bass guitarist Nick Massi for the entire run — from first "Sherry" in 2007 to last "Who Loves You." He's been bandmates with no fewer than three marquee Vallis.
"That's why I think I actually know what Sunday will feel like," Ingersoll says. A friend told him that he works in the goodbye business. Shows open and close, cast mates move on. "So I already know that bittersweet feeling," he says, "it'll just be times 19."
Jersey Boys written by Marshall Brickman and Rick Elice, has been one of Chicago theater's success stories. Here, as well as in other cities, it has been a rare musical that men aren't ashamed to buy tickets for. "The flawed, straight-from-the-'hood Seasons forged an all-hit jukebox for working-class guys and their girlfriends," Chris Jones wrote in his four-star review for the Tribune for the opening. The show's first act has guys in the band getting tossed in and out of the slammer even as Bob Gaudio is writing "Big Girls Don't Cry." Valli struggles with the band and his personal life.
"I think every guy in the audience exhales the first time we drop the F-bomb," Ingersoll says. He sees Jersey Boys as a blend of VH1, The Godfather and a rock concert. "It ain't Carousel" he says.
Ingersoll is from Chicago and plans to continue his music career here for the time-being (Michael Ingersoll and the Boys: Once More Before We Go is playing Jan. 18 to Feb. 2 at the Metropolis Performing Arts Centre). His cast mates are mostly from New York, he says, and will be going home to look for work.
But the call to close Jersey Boys now, while it's still mostly going strong, was the right one, he says. He was ready. "Of course, I'll miss it."
One part of the performance that will stay with him: the big "Who Loves You" finale at the end.
"Not for the applause, although you'd think so, because you can get used to anything. Anything. Even 2,000 people screaming every night." Don't misunderstand, it's not that he isn't grateful. "But it's not like the gates of heaven open and we get an ego bath every single night." The stage lights are up at that moment, and the band can see the audience better than the audience thinks. He can see individual faces. "All these different kinds of people who have come together to pay their money and play pretend and exercise their emotions. They're smiling or clapping or crying in the dark," he says. "That's the privilege of having been on this ride."